https://integrityfusion.com/wp-content/uploads/2018/05/6130ACE18ExhibitorBooth-3.jpg
2400
2500
Matt
https://integrityfusion.com/wp-content/uploads/2017/01/integrity-fusion-products-logo.jpg
Matt
2018-05-25 20:10:29
2018-05-25 20:22:49
AWWA ACE 2018
Integrity Fusion Products is proud to announce their involvement as part of the PE Alliance. This group is made up of multiple manufacturers, distributors, engineers, and other industry professionals involved in growing the polyethylene pipe market. We are banding together with this group to show that polyethylene pipe really is the future for the US piping market growth.
Here is what their website (www.pepipe.org) states about the organization: "The Alliance for PE Pipe is composed of leaders in the PE pipe industry who are committed to the advancement of polyethylene pipe in the municipal water industry. Their goal is to help the world realize the benefits and long-term cost-effectiveness of using PE pipe. They are concerned over the state of water in the United States and want the industry to realize that PE pipe is the best choice for conserving water and protecting the environment.
The Alliance formed when it was realized that something had to be done about water loss and America's failing water infrastructure. The Alliance for PE pipe is committed to a quality product that can help our people and our planet at the same time."
https://integrityfusion.com/wp-content/uploads/2014/01/alliance-for-pe-pipe.png
84
269
IFPsuperADMIN
https://integrityfusion.com/wp-content/uploads/2017/01/integrity-fusion-products-logo.jpg
IFPsuperADMIN
2014-01-22 17:28:30
2014-02-06 18:56:53
Integrity Joins the PE Alliance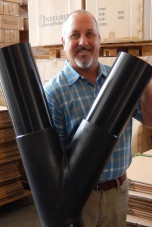 The latest product in the IntegriFuse line of HDPE Fittings is the new Industry Exclusive Molded Lateral Wye. These full size Wyes are now offered in sizes 2", 3", 4", 6", and 8" all in SDR 11 and SDR 17.
The greatest benefits of these include full pressure rating, no internal bead, cost competitive with fabricated wyes, and no lead time as we have them on the shelf and ready to ship.
Contact our customer service team today for pricing and availability of these, as well as, our entire product line of HDPE fittings and equipment.
https://integrityfusion.com/wp-content/uploads/2014/01/innovation-215x300b.jpg
227
152
IFPsuperADMIN
https://integrityfusion.com/wp-content/uploads/2017/01/integrity-fusion-products-logo.jpg
IFPsuperADMIN
2014-01-20 03:31:12
2014-02-06 18:57:13
Industry Exclusive HDPE Molded Lateral Wye