IntegriFuse Molded Butt Fusion Fittings include both everyday items you expect from a fittings manufacturer, as well as, some unique items that will solve many project and jobsite challenges.
Butt Fusion is defined by McGraw-Hill as "A method of joining plastic pipe, sheet, or other similar forms of a thermoplastic resin wherein the two ends to be joined are heated to the molten state and then rapidly pressed together to form a homogeneous bond." With HDPE fittings you would use a butt fusion machine, heat both ends of the fittings or pipe and press them together to form a strong bond/fusion and eliminating all potential leaks and joints.
Below is a list of fittings with their size range and SDR listed.
All molded fittings are manufactured to be fully pressure rated to the equivalent SDR of HDPE pipe.
SDR 17 IPS Sizes 2″ to 12″
SDR 11 IPS Sizes 2″ to 12″
SDR 9 IPS Sizes 2″ to 8″
SDR 7 IPS Sizes 2″ to 8″
SDR 11 DIPS Sizes 4″ to 8″
Molded 90° Elbow
IPS - SDR 17 - 125 PSI (Working Pressure at 73.4˚ F)
| Nominal Size | A | B | C | D | E | Weight | Item Code |
| --- | --- | --- | --- | --- | --- | --- | --- |
| 2" IPS | 4.25" | 2.95" | 0.140" | 2.375" | 5.44" | 0.4 lbs. | 100106 |
| 3" IPS | 5.91" | 4.06" | 0.206" | 3.500" | 7.66" | 1.1 lbs. | 100110 |
| 4" IPS | 6.89" | 4.53" | 0.265" | 4.500" | 9.14" | 1.6 lbs. | 100114 |
| 6" IPS | 9.06" | 5.63" | 0.390" | 6.625" | 12.37" | 7.8 lbs. | 100118 |
| 8" IPS | 11.81" | 7.20" | 0.507" | 8.625" | 16.13" | 12.8 lbs. | 100122 |
| 10" IPS | 13.78" | 8.27" | 0.632" | 10.750" | 19.15" | 24.0 lbs. | 100126 |
| 12" IPS | 14.96" | 8.46" | 0.750" | 12.750" | 21.33" | 49.4 lbs. | 100128 |
Molded 90˚ Elbow
IPS - SDR 11 - 200 PSI (Working Pressure at 73.4˚ F)
| Nominal Size | A | B | C | D | E | Weight | Item Code |
| --- | --- | --- | --- | --- | --- | --- | --- |
| ¾" IPS | 3.19" | 2.14" | 0.095" | 1.050" | 3.82" | 0.1 lbs. | 100100 |
| 1" IPS | 3.31" | 2.18" | 0.120" | 1.315" | 4.06" | 0.2 lbs. | 100101 |
| 1 ¼" IPS | 3.48" | 2.15" | 0.151" | 1.660" | 4.41" | 0.3 lbs. | 100102 |
| 1 ½" IPS | 3.92" | 2.37" | 0.173" | 1.900" | 5.00" | 0.4 lbs. | 100103 |
| 2" IPS | 4.25" | 2.95" | 0.216" | 2.375" | 5.44" | 0.5 lbs. | 100105 |
| 3" IPS | 5.91" | 4.06" | 0.318" | 3.500" | 7.66" | 1.5 lbs. | 100109 |
| 4" IPS | 6.89" | 4.53" | 0.409" | 4.500" | 9.14" | 2.8 lbs. | 100113 |
| 6" IPS | 9.06" | 5.63" | 0.602" | 6.625" | 12.37" | 5.7 lbs. | 100117 |
| 8" IPS | 11.81" | 7.20" | 0.784" | 8.625" | 16.13" | 17.4 lbs. | 100121 |
| 10" IPS | 13.78" | 8.27" | 0.977" | 10.750" | 19.15" | 32.0 lbs. | 100125 |
| 12" IPS | 14.96" | 8.46" | 1.159" | 12.750" | 21.33" | 36.9 lbs. | 100127 |
Molded 90˚ Elbow
IPS - SDR 9 - 255 PSI (Working Pressure at 73.4˚ F)
| Nominal Size | A | B | C | D | E | Weight | Item Code |
| --- | --- | --- | --- | --- | --- | --- | --- |
| 2" IPS | 4.25" | 2.95" | 0.264" | 2.375" | 5.44" | 0.6 lbs. | 100108 |
| 3" IPS | 5.91" | 4.06" | 0.389" | 3.500" | 7.66" | 1.7 lbs. | 100112 |
| 4" IPS | 6.89" | 4.53" | 0.500" | 4.500" | 9.14" | 3.1 lbs. | 100116 |
| 6" IPS | 9.06" | 5.63" | 0.736" | 6.625" | 12.37" | 9.0 lbs. | 100120 |
| 8" IPS | 11.81" | 7.20" | 0.958" | 8.625" | 16.13" | 19.7 lbs. | 100124 |
Molded 90˚ Elbow
IPS - SDR 7 - 335 PSI (Working Pressure at 73.4˚ F)
| Nominal Size | A | B | C | D | E | Weight | Item Code |
| --- | --- | --- | --- | --- | --- | --- | --- |
| 2" IPS | 4.25" | 2.95" | 0.339" | 2.375" | 5.44" | 0.8 lbs. | 100107 |
| 3" IPS | 5.91" | 4.06" | 0.500" | 3.500" | 7.66" | 2.0 lbs. | 100111 |
| 4" IPS | 6.89" | 4.53" | 0.643" | 4.500" | 9.14" | 3.2 lbs. | 100114 |
| 6" IPS | 9.06" | 5.63" | 0.946" | 6.625" | 12.37" | 10.9 lbs. | 100119 |
| 8" IPS | 11.81" | 7.20" | 1.232" | 8.625" | 16.13" | 24.1 lbs. | 100123 |
Molded 90˚ Elbow
DIPS - SDR 11 - 200 PSI (Working Pressure at 73.4˚ F)
| Nominal Size | A | B | C | D | E | Weight | Item Code |
| --- | --- | --- | --- | --- | --- | --- | --- |
| 4" DIPS | 7.55" | 4.10" | 0.436" | 4.800" | 10.04" | 4.0 lbs. | 100129 |
| 6" DIPS | 9.67" | 5.10" | 0.627" | 6.900" | 13.34" | 10.1 lbs. | 100130 |
| 8" DIPS | 11.58" | 5.20" | 0.823" | 9.050" | 16.33" | 19.8 lbs. | 100131 |
SDR 17 IPS Sizes 2″ to 12″
SDR 11 IPS Sizes 2″ to 12″
SDR 9 IPS Sizes 2″ to 8″
SDR 7 IPS Sizes 2″ to 8″
SDR 11 DIPS Sizes 4″ to 8″
Molded 45˚ Elbow
IPS - SDR 17 - 125 PSI (Working Pressure at 73.4˚ F)
| Nominal Size | A | B | C | D | E | Weight | Item Code |
| --- | --- | --- | --- | --- | --- | --- | --- |
| 2" IPS | 3.23" | 2.64" | 0.140" | 2.375" | 6.38" | 0.3 lbs. | 100002 |
| 3" IPS | 4.72" | 3.86" | 0.206" | 3.500" | 9.33" | 0.9 lbs. | 100006 |
| 4" IPS | 5.31" | 4.21" | 0.265" | 4.500" | 10.63" | 1.7 lbs. | 100010 |
| 6" IPS | 6.89" | 5.35" | 0.390" | 6.625" | 14.09" | 4.4 lbs. | 100014 |
| 8" IPS | 8.46" | 6.54" | 0.507" | 8.625" | 17.48" | 9.8 lbs. | 100018 |
| 10" IPS | 10.04" | 7.64" | 0.632" | 10.750" | 20.94" | 14.9 lbs. | 100022 |
| 12" IPS | 10.63" | 7.80" | 0.750" | 12.750" | 22.64" | 22.1 lbs. | 100024 |
Molded 45˚ Elbow
IPS - SDR 11 - 200 PSI (Working Pressure at 73.4˚ F)
| Nominal Size | A | B | C | D | E | Weight | Item Code |
| --- | --- | --- | --- | --- | --- | --- | --- |
| 2" IPS | 3.23" | 2.64" | 0.216" | 2.375" | 6.38" | 0.4 lbs. | 100001 |
| 3" IPS | 4.72" | 3.86" | 0.318" | 3.500" | 9.33" | 1.2 lbs. | 100005 |
| 4" IPS | 5.31" | 4.21" | 0.409" | 4.500" | 10.63" | 2.1 lbs. | 100009 |
| 6" IPS | 6.89" | 5.35" | 0.602" | 6.625" | 14.09" | 6.1 lbs. | 100013 |
| 8" IPS | 8.46" | 6.54" | 0.784" | 8.625" | 17.48" | 12.6 lbs. | 100017 |
| 10" IPS | 10.04" | 7.64" | 0.977" | 10.750" | 20.94" | 21.3 lbs. | 100021 |
| 12" IPS | 10.63" | 7.80" | 1.159 | 12.750" | 22.64" | 31.4 lbs. | 100023 |
Molded 45˚ Elbow
IPS - SDR 9 - 255 PSI (Working Pressure at 73.4˚ F)
| Nominal Size | A | B | C | D | E | Weight | Item Code |
| --- | --- | --- | --- | --- | --- | --- | --- |
| 2" IPS | 3.23" | 2.64" | 0.264" | 2.375" | 6.38" | 0.4 lbs. | 100004 |
| 3" IPS | 4.72" | 3.86" | 0.389" | 3.500" | 9.33" | 1.4 lbs. | 100008 |
| 4" IPS | 5.31" | 4.21" | 0.500" | 4.500" | 10.63" | 2.6 lbs. | 100012 |
| 6" IPS | 6.89" | 5.35" | 0.736" | 6.625" | 14.09" | 7.2 lbs. | 100016 |
| 8" IPS | 8.46" | 6.54" | 0.958" | 8.625" | 17.48" | 14.7 lbs. | 100020 |
Molded 45˚ Elbow
IPS - SDR 7 - 335 PSI (Working Pressure at 73.4˚ F)
| Nominal Size | A | B | C | D | E | Weight lbs. | Item Code |
| --- | --- | --- | --- | --- | --- | --- | --- |
| 2" IPS | 3.23" | 2.64" | 0.339" | 2.375" | 6.38" | 0.5 lbs. | 100003 |
| 3" IPS | 4.72" | 3.86" | 0.500" | 3.500" | 9.33" | 1.7 lbs. | 100007 |
| 4" IPS | 5.31" | 4.21" | 0.643" | 4.500" | 10.63" | 3.2 lbs. | 100011 |
| 6" IPS | 6.89" | 5.35" | 0.946" | 6.625" | 14.09" | 8.7 lbs. | 100015 |
| 8" IPS | 8.46" | 6.54" | 1.232" | 8.625" | 17.48" | 17.9 lbs. | 100019 |
Molded 45˚ Elbow
DIPS - SDR 11 - 200 PSI (Working Pressure at 73.4˚ F)
| Nominal Size | A | B | C | D | E | Weight lbs. | Item Code |
| --- | --- | --- | --- | --- | --- | --- | --- |
| 4" DIPS | 6.05" | 4.10" | 0.436" | 4.800" | 12.00" | 3.2 lbs. | 100025 |
| 6" DIPS | 7.16" | 5.10" | 0.627" | 6.900" | 14.56" | 7.9 lbs. | 100026 |
| 8" DIPS | 8.32" | 5.20" | 0.823" | 9.050" | 17.56" | 17.4 lbs. | 100027 |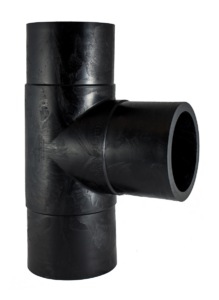 SDR 17 IPS Sizes 2″ to 12″
SDR 11 IPS Sizes 2″ to 12″
SDR 9 IPS Sizes 2″ to 8″
SDR 7 IPS Sizes 2″ to 8″
SDR 11 DIPS Sizes 4″ to 8″
Molded Equal Tee
IPS - SDR 17 - 125 PSI (Working Pressure at 73.4˚ F)
| Nominal Size | A | B | C | D | E | Weight | Item Code |
| --- | --- | --- | --- | --- | --- | --- | --- |
| 3" IPS | 11.81" | 5.91" | 0.206" | 3.500" | 3.54" | 1.4 lbs. | 100709 |
| 4" IPS | 13.78" | 6.89" | 0.264" | 4.500" | 3.94" | 2.8 lbs. | 100713 |
| 6" IPS | 18.11" | 9.06" | 0.390" | 6.625" | 4.72" | 7.7 lbs. | 100717 |
| 8" IPS | 23.62" | 11.81" | 0.507" | 8.625" | 5.71" | 17.5 lbs. | 100721 |
| 10" IPS | 27.56" | 13.78" | 0.632" | 10.750" | 6.30" | 28.6 lbs. | 100725 |
| 12" IPS | 31.57" | 15.97" | 0.750" | 12.750" | 7.52" | 47.1 lbs. | 100727 |
Molded Equal Tee
IPS - SDR 11 - 200 PSI (Working Pressure at 73.4˚ F)
| Nominal Size | A | B | C | D | E | Weight | Item Code |
| --- | --- | --- | --- | --- | --- | --- | --- |
| ¾" IPS | 6.38" | 3.19" | 0.095" | 1.050" | 2.14" | 0.1 lbs. | 100700 |
| 1" IPS | 6.62" | 3.31" | 0.120" | 1.315" | 2.18" | 0.3 lbs. | 100701 |
| 1 ¼" IPS | 6.97" | 3.48" | 0.151" | 1.660" | 2.15" | 0.4 lbs. | 100702 |
| 1 ½" IPS | 7.84" | 3.92" | 0.173" | 1.900" | 2.37" | 0.5 lbs. | 100704 |
| 2" IPS | 8.66" | 4.33" | 0.216" | 2.375" | 2.48" | 0.7 lbs. | 100705 |
| 3" IPS | 11.81" | 5.91" | 0.318" | 3.500" | 3.54" | 2.2 lbs. | 100708 |
| 4" IPS | 13.78" | 6.89" | 0.409" | 4.500" | 3.94" | 4.1 lbs. | 100712 |
| 6" IPS | 18.11" | 9.06" | 0.602" | 6.625" | 4.72" | 10.6 lbs. | 100716 |
| 8" IPS | 23.62" | 11.81" | 0.784" | 8.625" | 5.71" | 22.5 lbs. | 100720 |
| 10" IPS | 27.56" | 13.78" | 0.977" | 10.750" | 6.30" | 41.1 lbs. | 100724 |
| 12" IPS | 31.57" | 15.97" | 1.159" | 12.750" | 7.52" | 66.3 lbs. | 100726 |
Molded Equal Tee
IPS - SDR 9 - 255 PSI (Working Pressure at 73.4˚ F)
| Nominal Size | A | B | C | D | E | Weight lbs. | Item Code |
| --- | --- | --- | --- | --- | --- | --- | --- |
| 2" IPS | 8.66" | 4.33" | 0.264" | 2.375" | 2.47" | 0.8 lbs. | 100707 |
| 3" IPS | 11.81" | 5.91" | 0.389" | 3.500" | 3.54" | 2.2 lbs. | 100711 |
| 4" IPS | 13.78" | 6.89" | 0.500" | 4.500" | 3.94" | 4.5 lbs. | 100715 |
| 6" IPS | 18.11" | 9.06" | 0.736" | 6.625" | 4.72" | 11.9 lbs. | 100719 |
| 8" IPS | 23.62" | 11.81" | 0.958" | 8.625" | 5.71" | 25.1 lbs. | 100723 |
Molded Equal Tee
IPS - SDR 7 - 335 PSI (Working Pressure at 73.4˚ F)
| Nominal Size | A | B | C | D | E | Weight lbs. | Item Code |
| --- | --- | --- | --- | --- | --- | --- | --- |
| 2" IPS | 8.66" | 4.33" | 0.339" | 2.375" | 2.47" | 1.0 lbs. | 100706 |
| 3" IPS | 11.81" | 5.91" | 0.500" | 3.500" | 3.54" | 2.7 lbs. | 100710 |
| 4" IPS | 13.78" | 6.89" | 0.643" | 4.500" | 3.94" | 5.6 lbs. | 100714 |
| 6" IPS | 18.11" | 9.06" | 0.946" | 6.625" | 4.72" | 14.3 lbs. | 100718 |
| 8" IPS | 23.62" | 11.81" | 1.232" | 8.625" | 5.71" | 32.9 lbs. | 100722 |
Molded Equal Tee
DIPS - SDR 11 - 200 PSI (Working Pressure at 73.4˚ F)
| Nominal Size | A | B | C | D | E | Weight | Item Code |
| --- | --- | --- | --- | --- | --- | --- | --- |
| 4" DIPS | 15.63" | 7.82" | 0.436" | 4.800" | 4.10" | 5.4 lbs. | 100728 |
| 6" DIPS | 19.34" | 9.67" | 0.627" | 6.900" | 5.10" | 13.2 lbs. | 100729 |
| 8" DIPS | 23.15" | 11.58" | 0.823" | 9.050" | 5.20" | | 100730 |
KNOW WHAT YOU ARE LOOKING FOR? CLICK REQUEST A QUOTE BUTTON TO GET STARTED
SDR 17 IPS Sizes 3″ x 2″ to 12″ x 6″
SDR 11 IPS Sizes 3″ x 2″ to 12″ x 6″
Fully Pressure Rated Molded Reducing Tees
Molded Reducing Tee
IPS - SDR 17 - 125 PSI (Working Pressure at 73.4˚ F)
| Nominal Size | L | D | d | L1 | L2 | Z | Weight | Item Code |
| --- | --- | --- | --- | --- | --- | --- | --- | --- |
| 3" x 2" IPS | 11.80" | 3.500" | 2.375" | 3.62" | 2.48" | 5.90" | 1.5 lbs. | 100801 |
| 4" x 2" IPS | 13.78" | 4.500" | 2.375" | 3.94" | 2.48" | 6.89" | 2.5 lbs. | 100803 |
| 4" x 3" IPS | 13.78" | 4.500" | 3.500" | 3.94" | 3.62" | 6.89" | 2.7 lbs. | 100805 |
| 6" x 2" IPS | 18.10" | 6.625" | 2.375" | 4.72" | 2.48" | 9.06" | 6.3 lbs. | 100807 |
| 6" x 3" IPS | 18.10" | 6.625" | 3.500" | 4.72" | 3.62" | 9.06" | 6.6 lbs. | 100809 |
| 6" x 4" IPS | 18.10" | 6.625" | 4.500" | 4.72" | 3.94" | 9.06" | 6.7 lbs. | 100811 |
| 8" x 2" IPS | 23.60" | 8.625" | 2.375" | 5.71" | 2.48" | 11.80" | 16.8 lbs. | 100813 |
| 8" x 3" IPS | 23.60" | 8.625" | 3.500" | 5.71" | 3.62" | 11.80" | 17.3 lbs. | 100815 |
| 8" x 4" IPS | 23.60" | 8.625" | 4.500" | 5.71" | 3.94" | 11.80" | 17.9 lbs. | 100817 |
| 8" x 6" IPS | 23.60" | 8.625" | 6.625" | 5.71" | 4.72" | 11.80" | 18.9 lbs. | 100819 |
| 10" x 4" IPS | 27.40" | 10.750" | 4.500" | 6.30" | 3.94" | 13.78" | 32.0 lbs. | 100821 |
| 10" x 6" IPS | 27.40" | 10.750" | 6.625" | 6.30" | 4.72" | 13.78" | 33.1 lbs. | 100823 |
| 10" x 8" IPS | 27.40" | 10.750" | 8.625" | 6.30" | 5.71" | 13.78" | 34.6 lbs. | 100825 |
| 12" x 6" IPS | 31.40" | 12.750" | 6.625" | 7.48" | 4.72" | 15.95" | 47.1 lbs. | 100827 |
| 12" x 8" IPS | 31.40" | 12.750" | 8.625" | 7.48" | 5.71" | 15.95" | 48.9 lbs. | 100829 |
| 12" x 10" IPS | 31.40" | 12.750" | 10.750" | 7.48" | 6.30" | 15.95" | 53.1 lbs. | 100831 |
Molded Reducing Tee
IPS - SDR 11 - 200 PSI (Working Pressure at 73.4˚ F)
| Nominal Size | L | D | d | L1 | L2 | Z | Weight | Item Code |
| --- | --- | --- | --- | --- | --- | --- | --- | --- |
| 3" x 2" IPS | 11.80" | 3.500" | 2.375" | 3.62" | 2.48" | 5.90" | 1.8 lbs. | 100800 |
| 4" x 2" IPS | 13.78" | 4.500" | 2.375" | 3.94" | 2.48" | 6.89" | 3.3 lbs. | 100802 |
| 4" x 3" IPS | 13.78" | 4.500" | 3.500" | 3.94" | 3.62" | 6.89" | 3.6 lbs. | 100804 |
| 6" x 2" IPS | 18.10" | 6.625" | 2.375" | 4.72" | 2.48" | 9.06" | 8.7 lbs. | 100806 |
| 6" x 3" IPS | 18.10" | 6.625" | 3.500" | 4.72" | 3.62" | 9.06" | 8.9 lbs. | 100808 |
| 6" x 4" IPS | 18.10" | 6.625" | 4.500" | 4.72" | 3.94" | 9.06" | 9.4 lbs. | 100810 |
| 8" x 2" IPS | 23.60" | 8.625" | 2.375" | 5.71" | 2.48" | 11.80" | 21.3 lbs. | 100812 |
| 8" x 3" IPS | 23.60" | 8.625" | 3.500" | 5.71" | 3.62" | 11.80" | 22.2 lbs. | 100814 |
| 8" x 4" IPS | 23.60" | 8.625" | 4.500" | 5.71" | 3.94" | 11.80" | 23.3 lbs. | 100816 |
| 8" x 6" IPS | 23.60" | 8.625" | 6.625" | 5.71" | 4.72" | 11.80" | 24.4 lbs. | 100818 |
| 10" x 4" IPS | 27.40" | 10.750" | 4.500" | 6.30" | 3.94" | 13.78" | 42.4 lbs. | 100820 |
| 10" x 6" IPS | 27.40" | 10.750" | 6.625" | 6.30" | 4.72" | 13.78" | 43.6 lbs. | 100822 |
| 10" x 8" IPS | 27.40" | 10.750" | 8.625" | 6.30" | 5.71" | 13.78" | 46.0 lbs. | 100824 |
| 12" x 6" IPS | 31.40" | 12.750" | 6.625" | 7.48" | 4.72" | 15.95" | 63.4 lbs. | 100826 |
| 12" x 8" IPS | 31.40" | 12.750" | 8.625" | 7.48" | 5.71" | 15.95" | 66.9 lbs. | 100828 |
| 12" x 10" IPS | 31.40" | 12.750" | 10.750" | 7.48" | 6.30" | 15.95" | 68.5 lbs. | 100830 |
SDR 17 IPS Sizes 2″ to 8″
SDR 11 IPS Sizes 2″ to 8″
Fully Pressure Rated Molded Lateral Wyes
Molded Lateral Wye
IPS - SDR 17 - 125 PSI (Working Pressure at 73.4° F)
| Nominal Size | A | B | C | D | E | Weight | Item Code |
| --- | --- | --- | --- | --- | --- | --- | --- |
| 2" IPS | 23.74" | 5.28" | 13.10" | 2.375" | 0.140" | 2.0 lbs. | 100901 |
| 3" IPS | 24.56" | 5.90" | 13.10" | 3.500" | 0.206" | 4.2 lbs. | 100903 |
| 4" IPS | 28.50" | 5.70" | 20.60" | 4.500" | 0.264" | 7.9 lbs. | 100905 |
| 6" IPS | 34.65" | 5.30" | 26.00" | 6.625" | 0.390" | 26.3 lbs. | 100907 |
| 8" IPS | 37.40" | 5.70" | 27.56" | 8.625" | 0.507" | 44.9 lbs. | 100909 |
Molded Lateral Wye
IPS - SDR 11 - 200 PSI (Working Pressure at 73.4° F)
| Nominal Size | A | B | C | D | E | Weight | Item Code |
| --- | --- | --- | --- | --- | --- | --- | --- |
| 2" IPS | 23.74" | 5.28" | 13.10" | 2.375" | 0.216" | 2.6 lbs. | 100900 |
| 3" IPS | 24.56" | 5.90" | 13.10" | 3.500" | 0.318" | 5.3 lbs. | 100902 |
| 4" IPS | 28.50" | 5.70" | 20.60" | 4.500" | 0.409" | 10.6 lbs. | 100904 |
| 6" IPS | 34.65" | 5.30" | 26.00" | 6.625" | 0.603" | 32.0 lbs. | 100906 |
| 8" IPS | 37.40" | 5.70" | 27.56" | 8.625" | 0.785" | 54.8 lbs. | 100908 |
SDR 17 IPS Sizes 2″ 3″ 4″
SDR 11 IPS Sizes 2″ 3″ 4″
SDR 9 IPS Sizes 2″ 3″ 4″
Molded Cross SDR 17
IPS - 125 PSI (Working Pressure at 73.4˚ F)
| Nominal Size | A | B | C | D | E | Weight | Item Code |
| --- | --- | --- | --- | --- | --- | --- | --- |
| 2" IPS | 8.96" | 4.45" | 0.140" | 2.375" | 2.64" | 1.1 lbs. | 100771 |
| 3" IPS | 11.81" | 5.90" | 0.206" | 3.500" | 3.54" | 2.1 lbs. | 100775 |
| 4" IPS | 13.98" | 6.89" | 0.264" | 4.500" | 3.94" | 4.2 lbs. | 100779 |
Molded Cross SDR 11
IPS - 200 PSI (Working Pressure at 73.4˚ F)
| Nominal Size | A | B | C | D | E | Weight | Item Code |
| --- | --- | --- | --- | --- | --- | --- | --- |
| 2" IPS | 8.96" | 4.45" | 0.216" | 2.375" | 2.64" | 1.3 lbs. | 100770 |
| 3" IPS | 11.81" | 5.90" | 0.318" | 3.500" | 3.54" | 3.3 lbs. | 100774 |
| 4" IPS | 13.98" | 6.89" | 0.409" | 4.500" | 3.94" | 6.2 lbs. | 100778 |
Molded Cross SDR 9
IPS - 200 PSI (Working Pressure at 73.4˚ F)
| Nominal Size | A | B | C | D | E | Weight | Item Code |
| --- | --- | --- | --- | --- | --- | --- | --- |
| 2" IPS | 8.96" | 4.45" | 0.264" | 2.375" | 2.64" | 1.5 lbs. | 100773 |
| 3" IPS | 11.81" | 5.90" | 0.389" | 3.500" | 3.54" | 3.6 lbs. | 100777 |
| 4" IPS | 13.98" | 6.89" | 0.500" | 4.500" | 3.94" | 7.1 lbs. | 100781 |
SDR 17 IPS Sizes 3″ x 2″ to 12″ x 10″
SDR 11 IPS Sizes 3″ x 2″ to 12″ x 10″
SDR 11 DIPS Sizes 6″ x 4″ to 8″ x 6″
Molded Reducer
IPS - SDR 17 - 125 PSI (Working Pressure at 73.4˚ F)
| Nominal Size | A | B | C | D | E | F | G | Weight | Item Code |
| --- | --- | --- | --- | --- | --- | --- | --- | --- | --- |
| 3" x 2" IPS | 7.87" | 3.94" | 2.95" | 0.206" | 2.375" | 3.500" | 0.140" | 0.5 lbs. | 100608 |
| 4" x 2" IPS | 9.06" | 4.33" | 2.95" | 0.265" | 2.375" | 4.500" | 0.140" | 0.8 lbs. | 100612 |
| 4" x 3" IPS | 9.06" | 4.33" | 3.94" | 0.264" | 3.500" | 4.500" | 0.206" | 0.9 lbs. | 100616 |
| 6" x 3" IPS | 11.03" | 5.06" | 3.71" | 0.390" | 3.500" | 6.625" | 0.206" | 2.1 lbs. | 100620 |
| 6" x 4" IPS | 11.42" | 5.12" | 4.33" | 0.390" | 4.500" | 6.625" | 0.264" | 2.4 lbs. | 100622 |
| 8" x 4" IPS | 12.80" | 5.99" | 4.05" | 0.507" | 4.500" | 8.625" | 0.264" | 4.2 lbs. | 100626 |
| 8" x 6" IPS | 12.80" | 6.10" | 5.12" | 0.507" | 6.625" | 8.625" | 0.390" | 4.9 lbs. | 100628 |
| 10" x 6" IPS | 14,06" | 6.16" | 5.29" | 0.632" | 6.625" | 10.750" | 0.390" | 7.7 lbs. | 100632 |
| 10" x 8" IPS | 14.37" | 6.25" | 5.81" | 0.632" | 8.625" | 10.750" | 0.507" | 10.2 lbs. | 100634 |
| 12" x 6" IPS | 16.00" | 6.95" | 5.22" | 0.750" | 6.625" | 12.750" | 0.390" | 11.3 lbs. | 100636 |
| 12" x 8" IPS | 16.54" | 7.09" | 6.10" | 0.750" | 8.625" | 12.750" | 0.507" | 12.8 lbs. | 100638 |
| 12" x 10" IPS | 16.54" | 7.09" | 6.69" | 0.750" | 10.750" | 12.750" | 0.632" | 14.4 lbs. | 100640 |
Molded Reducer
IPS - SDR 11 - 200 PSI (Working Pressure at 73.4˚ F)
| Nominal Size | A | B | C | D | E | F | G | Weight | Item Code |
| --- | --- | --- | --- | --- | --- | --- | --- | --- | --- |
| 1" x ¾" IPS | 4.58" | 2.17" | 2.17" | 0.120" | 1.050" | 1.315" | 0.095" | 0.1 lbs. | 100600 |
| 1 ¼" x 1" IPS | 4.66" | 2.20" | 2.15" | 0.151" | 1.315" | 1.660" | 0.120" | 0.1 lbs. | 100601 |
| 1 ½" x 1" IPS | 5.12" | 2.44" | 2.16" | 0.173" | 1.315" | 1.900" | 0.120" | 0.2 lbs. | 100602 |
| 1 ½" x 1 ¼" IPS | 4.83" | 2.44" | 2.17" | 0.173" | 1.660" | 1.900" | 0.151" | 0.2 lbs. | 100603 |
| 2" x 1" IPS | 5.62" | 2.53" | 2.13" | 0.216" | 1.315" | 2.375" | 0.120" | 0.2 lbs. | 100604 |
| 2" x 1 ¼" IPS | 5.34" | 2.53" | 2.15" | 0.216" | 1.660" | 2.375" | 0.151" | 0.3 lbs. | 100605 |
| 2" x 1 ½" IPS | 5.40" | 2.53" | 2.42" | 0.216" | 1.900" | 2.375" | 0.173" | 0.3 lbs. | 100606 |
| 3" x 2" IPS | 7.87" | 3.94" | 2.95" | 0.318" | 2.375" | 3.500" | 0.216" | 0.7 lbs. | 100607 |
| 4" x 2" IPS | 9.06" | 4.33" | 2.95" | 0.409" | 2.375" | 4.500" | 0.216" | 1.2 lbs. | 100611 |
| 4" x 3" IPS | 9.06" | 4.33" | 3.94" | 0.409" | 3.500" | 4.500" | 0.318" | 1.4 lbs. | 100615 |
| 6" x 3" IPS | 11.03" | 5.06" | 3.71" | 0.602" | 3.500" | 6.625" | 0.318" | 3.2 lbs. | 100619 |
| 6" x 4" IPS | 11.42" | 5.12" | 4.33" | 0.602" | 4.500" | 6.625" | 0.409" | 3.5 lbs. | 100621 |
| 8" x 4" IPS | 12.80" | 5.99" | 4.05" | 0.784" | 4.500" | 8.625" | 0.409" | 6.3 lbs. | 100625 |
| 8" x 6" IPS | 12.80" | 6.10" | 5.12" | 0.784" | 6.625" | 8.625" | 0.602" | 7.3 lbs. | 100627 |
| 10" x 6" IPS | 14,06" | 6.16" | 5.29" | 0.977" | 6.625" | 10.750" | 0.602" | 10.3 lbs. | 100631 |
| 10" x 8" IPS | 14.37" | 6.25" | 5.88" | 0.977" | 8.625" | 10.750" | 0.7984" | 14.5 lbs. | 100633 |
| 12" x 6" IPS | 16.00" | 6.95" | 5.22" | 1.159" | 6.625" | 12.750" | 0.602" | 16.6 lbs. | 100635 |
| 12" x 8" IPS | 16.54" | 7.09" | 6.10" | 1.159" | 8.625" | 12.750" | 0.784" | 19.1 lbs. | 100637 |
| 12" x 10" IPS | 16.54" | 7.09" | 6.69" | 1.159" | 10.750" | 12.750" | 0.977" | 21.7 lbs. | 100639 |
Molded Reducer
IPS - SDR 9 - 255 PSI (Working Pressure at 73.4˚ F)
| Nominal Size | A | B | C | D | E | F | G | Weight | Item Code |
| --- | --- | --- | --- | --- | --- | --- | --- | --- | --- |
| 3" x 2" IPS | 7.87" | 3.94" | 2.95" | 0.389" | 2.375" | 3.500" | 0.264" | 0.7 lbs. | 100610 |
| 4" x 2" IPS | 9.06" | 4.33" | 2.95" | 0.500" | 2.375" | 4.500" | 0.264" | 1.2 lbs. | 100614 |
| 4" x 3" IPS | 9.06" | 4.33" | 3.94" | 0.500" | 3.500" | 4.500" | 0.389" | 1.4 lbs. | 100618 |
| 6" x 4" IPS | 11.42" | 5.12" | 4.33" | 0.736" | 4.500" | 6.625" | 0.500" | 3.5 lbs. | 100624 |
| 8" x 6" IPS | 12.80" | 6.10" | 5.12" | 0.958" | 6.625" | 8.625" | 0.736" | 7.3 lbs. | 100630 |
Molded Reducer
DIPS - SDR 11 - 200 PSI (Working Pressure at 73.4˚ F)
| Nominal Size | A | B | C | D | E | F | G | Weight | Item Code |
| --- | --- | --- | --- | --- | --- | --- | --- | --- | --- |
| 6" x 4" DIPS | 11.41" | 5.10" | 4.33" | 0.627" | 4.800" | 6.900" | 0.436" | 4.1 lbs. | 100641 |
| 8" x 6" DIPS | 12.79" | 6.10" | 5.12" | 0.823" | 6.900" | 9.050" | 0.627" | 7.8 lbs. | 100642 |
Molded Reducer
IPS - SDR 7 - 335 PSI (Working Pressure at 73.4˚ F)
| Nominal Size | A | B | C | D | E | F | G | Weight | Item Code |
| --- | --- | --- | --- | --- | --- | --- | --- | --- | --- |
| 3" x 2" IPS | 7.87" | 3.94" | 2.95" | 0.500" | 2.375" | 3.500" | 0.339" | 1.6 lbs. | 100609 |
| 4" x 2" IPS | 9.06" | 4.33" | 2.95" | 0.643" | 2.375" | 4.500" | 0.339" | 3.0 lbs. | 100613 |
| 4" x 3" IPS | 9.06" | 4.33" | 3.94" | 0.643" | 3.500" | 4.500" | 0.500" | 3.3 lbs. | 100617 |
| 6" x 4" IPS | 11.42" | 5.12" | 4.33" | 0.946" | 4.500" | 6.625" | 0.643" | 5.2 lbs. | 100623 |
| 8" x 6" IPS | 12.80" | 6.10" | 5.12" | 1.232" | 6.625" | 8.625" | 0.946" | 8.4 lbs. | 100629 |
Molded Reducer
IPS - SDR 11 - 200 PSI (Working Pressure at 73.4˚ F)
| Nominal Size | A | B | C | D | E | F | G | Weight | Item Code |
| --- | --- | --- | --- | --- | --- | --- | --- | --- | --- |
| 6" x 4" DIPS | 11.41" | 5.10" | 4.33" | 0.627" | 4.800" | 6.900" | 0.436" | 4.1 lbs. | 100641 |
| 8" x 6" DIPS | 12.79" | 6.10" | 5.12" | 0.823" | 6.900" | 9.050" | 0.627" | 7.8 lbs. | 100642 |
KNOW WHAT YOU ARE LOOKING FOR? CLICK REQUEST A QUOTE BUTTON TO GET STARTED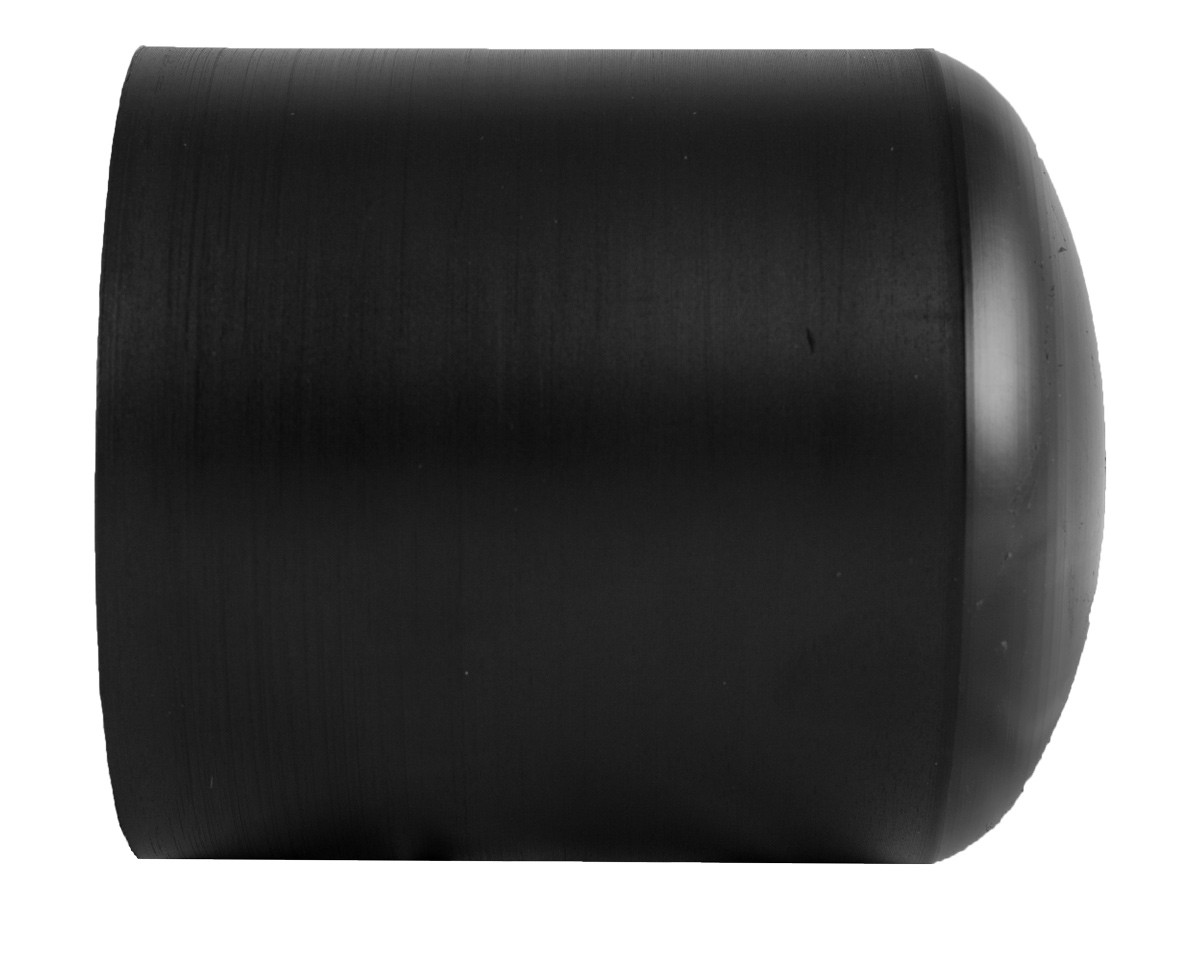 SDR 17 IPS Sizes 2″ to 8″
SDR 11 IPS Sizes 2″ to 8″
Fully Pressure Rated Molded Lateral Wyes
Molded Cap
IPS - SDR 17 - 125 PSI (Working Pressure at 73.4˚ F)
| Nominal Size | A | B | C | D | Weight | Item Code |
| --- | --- | --- | --- | --- | --- | --- |
| 2" IPS | 3.23" | 0.140" | 2.375" | 2.52" | 0.1 lbs. | 100306 |
| 3" IPS | 4.72" | 0.206" | 3.500" | 3.70" | 0.4 lbs. | 100310 |
| 4" IPS | 5.31" | 0.264" | 4.500" | 3.98" | 0.7 lbs. | 100314 |
| 6" IPS | 6.89" | 0.390" | 6.625" | 4.84" | 2.0 lbs. | 100318 |
| 8" IPS | 8.66" | 0.507" | 8.625" | 5.83" | 4.2 lbs. | 100322 |
| 10" IPS | 9.84" | 0.633" | 10.750" | 6.30" | 7.5 lbs. | 100326 |
| 12" IPS | 11.77" | 0.750" | 12.750" | 7.52" | 12.4 lbs. | 100328 |
Molded Cap
IPS - SDR 11 - 200 PSI (Working Pressure at 73.4˚ F)
| Nominal Size | A | B | C | D | Weight | Item Code |
| --- | --- | --- | --- | --- | --- | --- |
| ¾" IPS | 2.55" | 0.095" | 1.050" | 2.18" | 0.1 lbs. | 100300 |
| 1" IPS | 2.64" | 0.120" | 1.315" | 2.18" | 0.1 lbs. | 100302 |
| 1 ¼" IPS | 2.77" | 0.151" | 1.660" | 2.18" | 0.1 lbs. | 100303 |
| 1 ½" IPS | 3.10" | 0.173" | 1.900" | 2.42" | 0.5 lbs. | 100304 |
| 2" IPS | 3.23" | 0.216" | 2.375" | 2.52" | 0.8 lbs. | 100305 |
| 3" IPS | 4.72" | 0.318" | 3.500" | 3.70" | 0.9 lbs. | 100309 |
| 4" IPS | 5.31" | 0.409" | 4.500" | 3.98" | 1.1 lbs. | 100313 |
| 6" IPS | 6.89" | 0.603" | 6.625" | 4.84" | 2.9 lbs. | 100317 |
| 8" IPS | 8.66" | 0.785" | 8.625" | 5.83" | 6.3 lbs. | 100321 |
| 10" IPS | 9.84" | 0.978" | 10.750" | 6.30" | 10.9 lbs. | 100325 |
| 12" IPS | 11.77" | 1.160" | 12.750" | 7.52" | 18.4 lbs. | 100327 |
Molded Cap
IPS - SDR 9 - 255 PSI (Working Pressure at 73.4˚ F)
| Nominal Size | A | B | C | D | Weight lbs. | Item Code |
| --- | --- | --- | --- | --- | --- | --- |
| 2" IPS | 3.23" | 0.264" | 2.375" | 2.52" | 0.3 lbs. | 100308 |
| 3" IPS | 4.72" | 0.389" | 3.500" | 3.70" | 0.8 lbs. | 100312 |
| 4" IPS | 5.31" | 0.500" | 4.500" | 3.98" | 2.4 lbs. | 100316 |
| 6" IPS | 6.89" | 0.736" | 6.625" | 4.84" | 2.8 lbs. | 100320 |
| 8" IPS | 8.66" | 0.958" | 8.625" | 5.83" | 5.6 lbs. | 100324 |
Molded Cap
IPS - SDR 7 - 335 PSI (Working Pressure at 73.4˚ F)
| Nominal Size | A | B | C | D | Weight | Item Code |
| --- | --- | --- | --- | --- | --- | --- |
| 2" IPS | 3.23" | 0.339" | 2.375" | 2.52" | 0.3 lbs. | 100307 |
| 3" IPS | 4.72" | 0.500" | 3.500" | 3.70" | 1.0 lbs. | 100311 |
| 4" IPS | 5.31" | 0.643" | 4.500" | 3.98" | 2.4 lbs. | 100315 |
| 6" IPS | 6.89" | 0.946" | 6.625" | 4.84" | 2.8 lbs. | 100319 |
| 8" IPS | 8.66" | 1.232" | 8.625" | 5.83" | 5.6 lbs. | 100323 |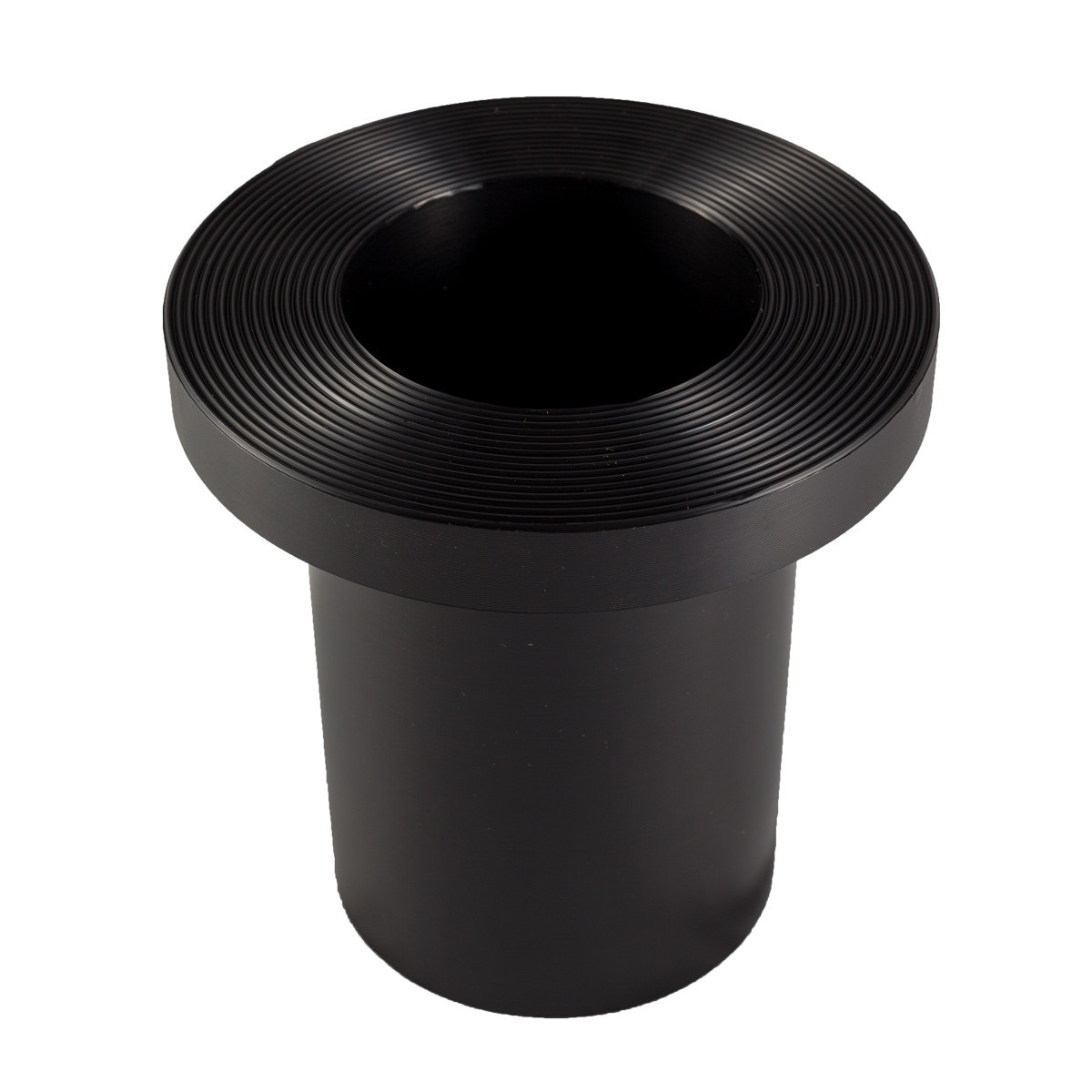 SDR 17 IPS Sizes 2″ to 36″
SDR 11 IPS Sizes 2″ to 36″
SDR 9 IPS Sizes 2″ to 12″
SDR 7 IPS Sizes 2″ to 8″
SDR 11 DIPS Sizes 4″ to 12″
Flange Adapter
IPS - SDR 17 - 125 PSI (Working Pressure at 73.4˚ F)
| Nominal Size | A | B | C | D | E | Weight | Item Code |
| --- | --- | --- | --- | --- | --- | --- | --- |
| 2" IPS | 2.375" | 3.94" | 0.55" | 6.10" | 0.140" | 0.4 lbs. | 100401 |
| 3" IPS | 3.500" | 5.00" | 0.67" | 6.10" | 0.206" | 0.8 lbs. | 100405 |
| 4" IPS | 4.500" | 6.61" | 0.79" | 6.10" | 0.265" | 1.6 lbs. | 100409 |
| 6" IPS | 6.625" | 8.50" | 1.02" | 8.07" | 0.390" | 3.4 lbs. | 100413 |
| 8" IPS | 8.625" | 10.63" | 1.02" | 10.67" | 0.507" | 6.4 lbs. | 100417 |
| 10" IPS | 10.750" | 12.99" | 1.18" | 11.50" | 0.632" | 10.1 lbs. | 100421 |
| 12" IPS | 12.750" | 15.75" | 1.38" | 10.83" | 0.750" | 14.6 lbs. | 100424 |
| 14" IPS | 14,000" | 17.50" | 1.70" | 11.00" | 0.824" | 26.0 lbs. | 100427 |
| 16" IPS | 16.000" | 20.00" | 1.90" | 12.00" | 0.941" | 37.0 lbs. | 100429 |
| 18" IPS | 18.000" | 21.10" | 2.10" | 12.00" | 1.059" | 43.0 lbs. | 100431 |
| 20" IPS | 20.000" | 23.50" | 2.30" | 12.00" | 1.176" | 56.0 lbs. | 100433 |
| 24" IPS | 24.000" | 27.90" | 2.90" | 14.00" | 1.412" | 79.0 lbs. | 100437 |
| 28" IPS | 28.000" | 32.30" | 3.23" | 14.00" | 1.647" | 84.0 lbs. | 100439 |
| 30" IPS | 30.000" | 34.30" | 3.46" | 14.00" | 1.765" | 87.0 lbs. | 100441 |
| 32" IPS | 32.000" | 34.30" | 3.69" | 14.00" | 1.882" | 106.0 lbs. | 100443 |
| 36" IPS | 36.000" | 40.80" | 4.16" | 14.00" | 2.118" | 141.0 lbs. | 100445 |
Flange Adapter
IPS - SDR 11 - 200 PSI (Working Pressure at 73.4˚ F)
| Nominal Size | A | B | C | D | E | Weight | Item Code |
| --- | --- | --- | --- | --- | --- | --- | --- |
| 2" IPS | 2.375" | 3.94" | 0.55" | 6.10" | 0.216" | 0.5 lbs. | 100400 |
| 3" IPS | 3.500" | 5.00" | 0.67" | 6.10" | 0.318" | 1.0 lbs. | 100404 |
| 4" IPS | 4.500" | 6.61" | 0.79" | 6.10" | 0.409" | 1.9 lbs. | 100408 |
| 6" IPS | 6.625" | 8.50" | 1.02" | 8.07" | 0.602" | 4.3 lbs. | 100412 |
| 8" IPS | 8.625" | 10.63" | 1.02" | 10.67" | 0.784" | 8.5 lbs. | 100416 |
| 10" IPS | 10.750" | 12.99" | 1.18" | 11.50" | 0.977" | 14.6 lbs. | 100420 |
| 12" IPS | 12.750" | 15.75" | 1.38" | 10.83" | 1.159" | 20.0 lbs. | 100423 |
| 14" IPS | 14,000" | 17.50" | 1.70" | 11.00" | 1.273" | 26.0 lbs. | 100426 |
| 16" IPS | 16.000" | 20.00" | 1.90" | 12.00" | 1.455" | 37.0 lbs. | 100428 |
| 18" IPS | 18.000" | 21.10" | 2.10" | 12.00" | 1.636" | 43.0 lbs. | 100430 |
| 20" IPS | 20.000" | 23.50" | 2.30" | 12.00" | 1.818" | 56.0 lbs. | 100432 |
| 24" IPS | 24.000" | 27.90" | 2.90" | 14.00" | 2.182" | 94.0 lbs. | 100436 |
| 28" IPS | 28.000" | 32.30" | 3.23" | 14.00" | 2.545" | 129.0 lbs. | 100438 |
| 30" IPS | 30.000" | 34.30" | 3.46" | 14.00" | 2.727" | 134.0 lbs. | 100440 |
| 32" IPS | 32.000" | 34.30" | 3.69" | 14.00" | 2.909" | 163.0 lbs. | 100442 |
| 36" IPS | 36.000" | 40.80" | 4.16" | 14.00" | 3.273" | 218.0 lbs. | 100444 |
Flange Adapter
IPS - SDR 9 - 255 PSI (Working Pressure at 73.4˚ F)
| Nominal Size | A | B | C | D | E | Weight | Item Code |
| --- | --- | --- | --- | --- | --- | --- | --- |
| 2" IPS | 2.375" | 3.94" | 0.55" | 6.10" | 0.264" | 0.6 lbs. | 100403 |
| 3" IPS | 3.500" | 5.00" | 0.67" | 6.10" | 0.389" | 1.1 lbs. | 100407 |
| 4" IPS | 4.500" | 6.61" | 0.79" | 6.10" | 0.500" | 2.1 lbs. | 100411 |
| 6" IPS | 6.625" | 8.50" | 1.02" | 8.07" | 0.736" | 4.8 lbs. | 100415 |
| 8" IPS | 8.625" | 10.63" | 1.02" | 10.67" | 0.958" | 9.8 lbs. | 100419 |
| 10" IPS | 10.750" | 12.99" | 1.18" | 11.50" | 1.194" | 17.0 lbs. | 100422 |
| 12" IPS | 12.750" | 15.75" | 1.38" | 10.83" | 1.417" | 22.5 lbs. | 100425 |
Flange Adapter
IPS - SDR 7 - 335 PSI (Working Pressure at 73.4˚ F)
| Nominal Size | A | B | C | D | E | Weight | Item Code |
| --- | --- | --- | --- | --- | --- | --- | --- |
| 2" IPS | 2.375" | 3.94" | 0.55" | 6.10" | 0.339" | 0.7 lbs. | 100402 |
| 3" IPS | 3.500" | 5.00" | 0.67" | 6.10" | 0.500" | 1.4 lbs. | 100406 |
| 4" IPS | 4.500" | 6.61" | 0.79" | 6.10" | 0.643" | 2.5 lbs. | 100410 |
| 6" IPS | 6.625" | 8.50" | 1.02" | 8.07" | 0.946" | 5.9 lbs. | 100414 |
| 8" IPS | 8.625" | 10.63" | 1.02" | 10.67" | 1.232" | 12.7 lbs. | 100418 |
Flange Adapter
DIPS - SDR 11 - 200 PSI (Working Pressure at 73.4˚ F)
| Nominal Size | A | B | C | D | E | Weight | Item Code |
| --- | --- | --- | --- | --- | --- | --- | --- |
| 4" DIPS | 4.800" | 6.56" | 0.68" | 6.00" | 0.436" | 1.8 lbs. | 100446 |
| 6" DIPS | 6.900" | 8.60" | 1.00" | 8.00" | 0.627" | 4.4 lbs. | 100447 |
| 8" DIPS | 9.050" | 10.72" | 1.25" | 9.00" | 0.823" | 8.4 lbs. | 100448 |
| 10" DIPS | 11.100" | | | | 1.009" | | 100449 |
| 12" DIPS | 13.200" | 15.94" | 1.81" | 10.78" | 1.200" | 21.2 lbs | 100450 |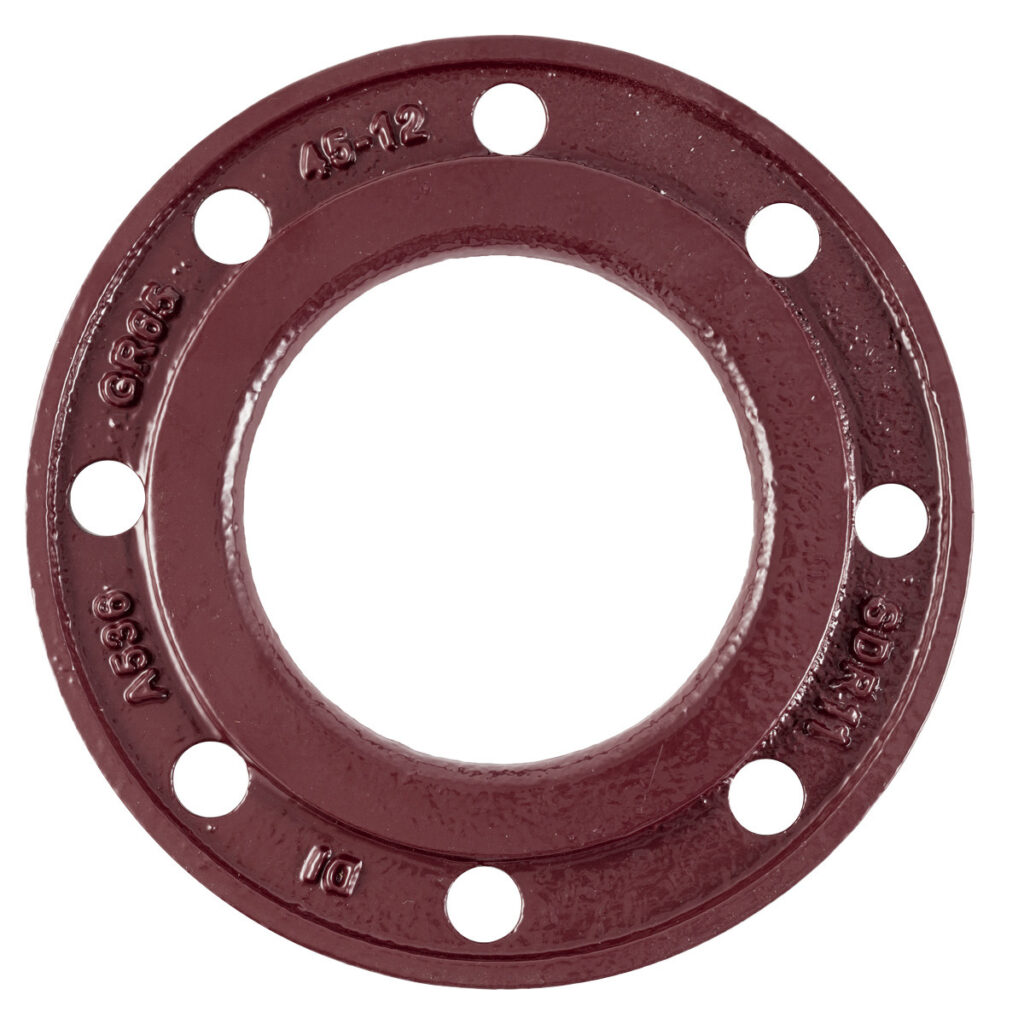 Size range from 2″ IPS to 36″ IPS  and 4″ DIPS to 12″ DIPS in stock
Red Epoxy Coating on IPS SDR 11 Backup Rings
Light Blue Epoxy Coating on DIPS SDR 11 Backup Rings
Fusion Bonded Epoxy Coated Ductile Iron
ASTM A536 Materials Standard
Made according to ANSI B16.5 Class 150
Epoxy Coated Backup Ring
IPS - SDR 11 - 200 PSI
Nominal Size
SDR
OD
ID
Thickness
# of Bolt
Holes
Bolt Hole
Diameter
Weight
Item Code
2" IPS
11
6.00"
2.60"
0.50"
4
0.75"
1.8 lbs.
100200
3" IPS
11
7.50"
3.75"
0.53"
4
0.75"
2.7 lbs.
100202
4" IPS
11
9.00"
4.75"
0.55"
8
0.75"
3.8 lbs.
100204
6" IPS
11
11.00"
6.88"
0.63"
8
0.88"
5.1 lbs.
100206
8" IPS
11
13.50"
8.88"
0.85"
8
0.88"
10.0 lbs.
100208
10" IPS
11
16.00"
11.00"
0.98"
12
1.00"
13.8 lbs.
100210
12" IPS
11
19.00"
13.15"
1.25"
12
1.00"
23.2 lbs.
100212
14" IPS
11
21.00"
14.40"
1.38"
12
1.13"
36.0 lbs.
100214
16" IPS
11
23.50"
16.40"
1.65"
16
1.13"
44.0 lbs.
100216
18" IPS
11
25.00"
18.40"
1.67"
16
1.25"
49.5 lbs.
100218
20" IPS
11
27.50"
20.50"
1.81"
20
1.25"
61.0 lbs.
100220
24" IPS
11
32.00"
24.50"
2.17"
20
1.38"
89.0 lbs.
100222
28" IPS
11
36.50"
28.60"
2.50"
28
1.38"
124.0 lbs.
100224
30" IPS
11
38.75"
30.60"
2.60"
28
1.38"
148.0 lbs.
100226
32" IPS
11
41.75"
32.60"
2.75"
28
1.63"
178.0 lbs.
100227
36" IPS
11
46.00"
36.60"
3.15"
32
1.3."
238.0 lbs.
100228
Epoxy Coated Backup Ring
Nominal Size
SDR
OD
ID
Thickness
# of Bolt
Holes
Bolt Hole
Diameter
Weight
Item Code
4" DIPS
11
9.00"
5.00"
0.55"
8
0.75"
3.8 lbs.
100260
6" DIPS
11
11.00"
7.10"
0.63"
8
0.88"
5.5 lbs.
100261
8" DIPS
11
13.50"
9.20"
0.85"
8
0.88"
9.5 lbs.
100262
10" DIPS
11
16.00"
11.30"
0.98"
12
1.00"
14.0 lbs.
100263
12" DIPS
11
19.00"
13.45"
1.25"
12
1.00"
24.0 lbs.
100264
Size range from 2″ IPS to 24″ IPS and 4″ DIPS to 12″ DIPS in stock
Green Epoxy Coating on SDR 7 IPS Backup Rings
Dark Blue Epoxy Coating on SDR 7 DIPS Backup Rings
Fusion Bonded Epoxy Coated Ductile Iron
ASTM A536 Materials Standard
Made according to ANSI B16.5 Class 150
Epoxy Coated Backup Ring
IPS - SDR 7 - 335 PSI | SDR 9 - 255 PSI
| Nominal Size | SDR | OD | ID | Thickness | # of Bolt Holes | Bolt Hole Diameter | Weight | Item Code |
| --- | --- | --- | --- | --- | --- | --- | --- | --- |
| 2" IPS | 7 | 6.00" | 2.60" | 0.75" | 4 | 0.75" | 2.8 lbs. | 100201 |
| 3" IPS | 7 | 7.50" | 3.75" | 0.85" | 4 | 0.75" | 4.0 lbs. | 100203 |
| 4" IPS | 7 | 9.00" | 4.75" | 0.92" | 8 | 0.75" | 5.6 lbs. | 100205 |
| 6" IPS | 7 | 11.00" | 6.88" | 1.00" | 8 | 0.88" | 8.0 lbs. | 100207 |
| 8" IPS | 7 | 13.50" | 8.88" | 1.12" | 8 | 0.88" | 12.5 lbs. | 100209 |
| 10" IPS | 7 | 16.00" | 11.00" | 1.22" | 12 | 1.00" | 16.8 lbs. | 100211 |
| 12" IPS | 7 | 19.00" | 13.15" | 1.48" | 12 | 1.00" | 26.8 lbs. | 100213 |
| 14" IPS | 7 | 21.00" | 14.40" | 1.62" | 12 | 1.13" | 38.5 lbs. | 100215 |
| 16" IPS | 7 | 23.50" | 16.40" | 1.82" | 16 | 1.13" | 49.0 lbs. | 100217 |
| 18" IPS | 7 | 25.00" | 18.40" | 1.82" | 16 | 1.25" | 52.0 lbs. | 100219 |
| 20" IPS | 9 | 27.50" | 20.50" | 2.00" | 20 | 1.25" | 67.0 lbs. | 100221 |
| 24" IPS | 9 | 32.00" | 24.50" | 2.18" | 20 | 1.38" | 96.0 lbs. | 100223 |
Epoxy Coated Backup Ring
DIPS - SDR 7 - 335 PSI
| Nominal Size | SDR | OD | ID | Thickness | # of Bolt Holes | Bolt Hole Diameter | Weight | Item Code |
| --- | --- | --- | --- | --- | --- | --- | --- | --- |
| 4" DIPS | 7 | 9.00" | 5.00" | 0.94" | 8 | 0.75" | 5.8 lbs. | 100229 |
| 6" DIPS | 7 | 11.00" | 7.10" | 1.00" | 8 | 0.88" | 8.5 lbs. | 100230 |
| 8" DIPS | 7 | 13.50" | 9.20" | 1.12" | 8 | 0.88" | 12.5 lbs. | 100231 |
| 10" DIPS | 7 | 16.00" | 11.30" | 1.19" | 12 | 1.00" | 17.0 lbs. | 100232 |
| 12" DIPS | 7 | 19.00" | 13.45" | 1.50" | 12 | 1.00" | 29.0 lbs. | 100233 |
Stainless Steel Backup Rings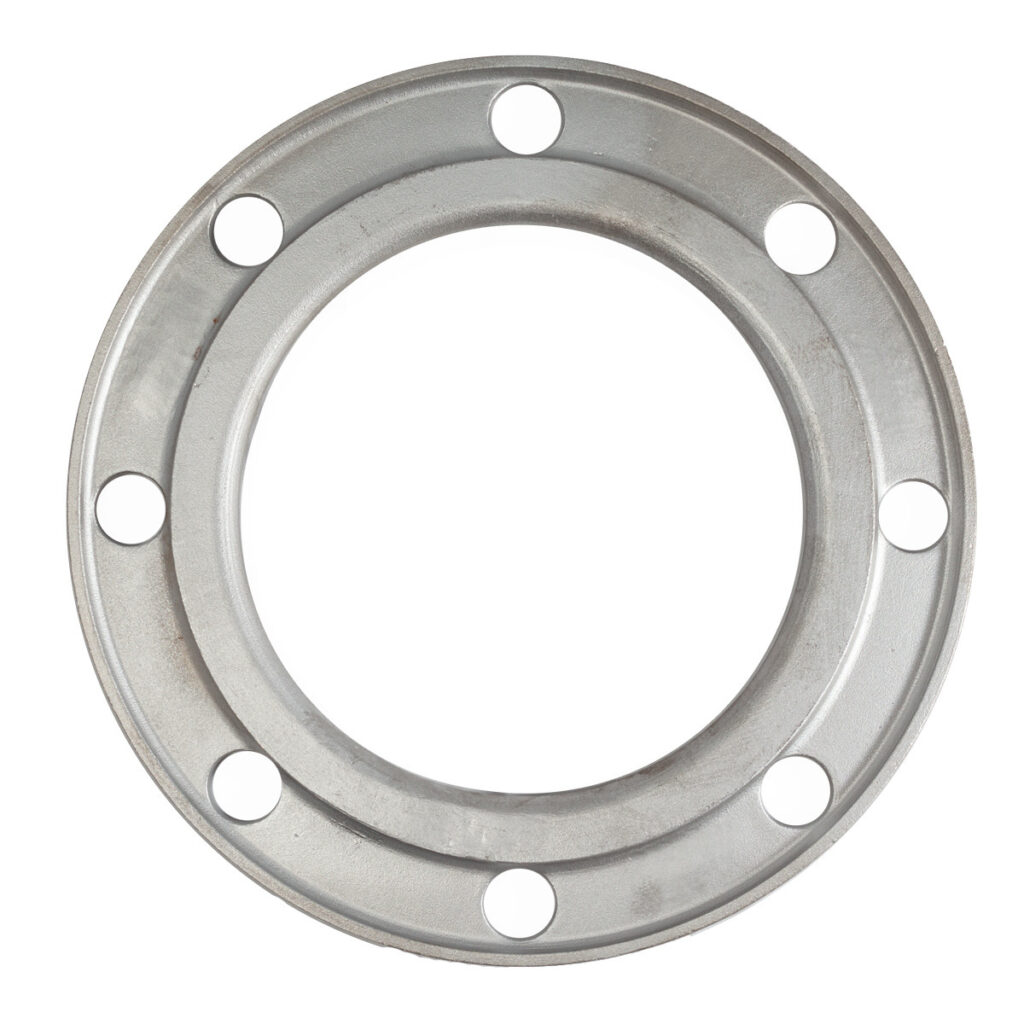 Size range from 2″ IPS to 24″ IPS and 4″ DIPS to 12″ DIPS in stock
316 Stainless Steel in SDR 11
ASTM A351CF8M
Made according to ANSI B16.5 Class 150
316SS Backup Ring
IPS - SDR 11 - 200 PSI
| Nominal Size | SDR | OD | ID | Thickness | # of Bolt Holes | Bolt Hole Diameter | Weight lbs. | Item Code |
| --- | --- | --- | --- | --- | --- | --- | --- | --- |
| 2" IPS | 11 | 6.00" | 2.64" | 0.45" | 4 | 0.75" | 1.7 lbs. | 100241 |
| 3" IPS | 11 | 7.50" | 3.75" | 0.53" | 4 | 0.75" | 2.6 lbs. | 100242 |
| 4" IPS | 11 | 9.00" | 4.80" | 0.55" | 8 | 0.75" | 3.7 lbs. | 100243 |
| 6" IPS | 11 | 11.00" | 6.90" | 0.63" | 8 | 0.88" | 5.6 lbs. | 100244 |
| 8" IPS | 11 | 13.50" | 8.90" | 0.85" | 8 | 0.88" | 10.0 lbs. | 100245 |
| 10" IPS | 11 | 16.00" | 11.00" | 0.99" | 12 | 1.00" | 14.5 lbs. | 100246 |
| 12" IPS | 11 | 19.00" | 13.15" | 1.26" | 12 | 1.00" | 25.0 lbs. | 100247 |
| 14" IPS | 11 | 21.00" | 14.42" | 1.38" | 12 | 1.13" | 35.0 lbs. | 100248 |
| 16" IPS | 11 | 23.50" | 16.47" | 1.57" | 16 | 1.13" | 45.0 lbs. | 100249 |
| 18" IPS | 11 | 25.00" | 18.50" | 1.65" | 16 | 1.25" | 51.0 lbs. | 100250 |
| 20" IPS | 11 | 27.50" | 20.50" | 1.85" | 20 | 1.25" | 64.0 lbs. | 100252 |
| 24" IPS | 11 | 32.00" | 24.50" | 2.18" | 20 | 1.38" | 100.0 lbs. | 100253 |
| 28" IPS (1) | 11 | 36.42" | 28.66" | 2.76" | 28 | 1.42" | 277.8 lbs. | 100265 |
| 30" IPS (1) | 11 | 38.78" | 30.67" | 2.87" | 28 | 1.42" | 327.5 lbs. | 100266 |
| 32" IPS (1) | 11 | 41.73" | 32.52" | | 28 | 1.63" | 204.6 lbs. | 100267 |
| 34" IPS (1) | 11 | 43.74" | 34.53" | | 32 | 1.63" | 224.9 lbs. | |
| 36" IPS (1) | 11 | 46.06" | 36.81" | 3.50" | 32 | 1.65" | 534.9 lbs. | 100268 |
316SS Backup Ring
DIPS - SDR 11 - 200 PSI
| Nominal Size | SDR | OD | ID | Thickness | # of Bolt Holes | Bolt Hole Diameter | Weight lbs. | Item Code |
| --- | --- | --- | --- | --- | --- | --- | --- | --- |
| 4" DIPS | 11 | 9.00" | 5.00" | 0.55" | 8 | 0.75" | 3.8 lbs. | 100243 |
| 6" DIPS | 11 | 11.00" | 7.10" | 0.63" | 8 | 0.88" | 5.5 lbs. | 100244 |
| 8" DIPS | 11 | 13.50" | 9.20" | 0.85" | 8 | 0.88" | 10.0 lbs. | 100245 |
| 10" DIPS | 11 | 16.00" | 11.30" | 0.99" | 12 | 1.00" | 15.0 lbs. | 100246 |
| 12" DIPS | 11 | 19.00" | 13.45" | 1.25" | 12 | 1.00" | 25.0 lbs. | 100247 |
KNOW WHAT YOU ARE LOOKING FOR? CLICK REQUEST A QUOTE BUTTON TO GET STARTED
SDR 11 IPS Sizes 2″ to 24″
SDR 9 IPS Sizes 2″ to 12″
SDR 11 DIPS Sizes 4″ to 24″
SDR 9 DIPS Sizes 4″ to 12″
All Sizes available both with or without the Stainless Steel Stiffener Insert
MJ Adapter
IPS - SDR 9 - 255 PSI | SDR 11 - 200 PSI
Nominal Size
SDR
A
B
C
D
Weight
Item Code
With SS / Without
2" IPS
9
8.00"
2.375"
2.34"
2.375"
2.0 lbs.
100503 / 100501
2" IPS
11
8.00"
2.375"
2.34"
2.375"
1.9 lbs.
100502 / 100500
3" IPS
9
9.00"
3.500"
2.34"
3.960"
2.4 lbs.
100507 / 100505
3" IPS
11
9.00"
3.500"
2.34"
3.960"
2.1 lbs.
100506 / 100504
4" IPS
9
10.25"
4.500"
2.34"
4.800"
3.4 lbs.
100515 / 100513
4" IPS
11
10.25"
4.500"
2.34"
4.800"
3.0 lbs.
100514 / 100512
6" IPS
9
11.31"
6.625"
2.34"
6.900"
7.0 lbs.
100523 / 100521
6" IPS
11
11.31"
6.625"
2.34"
6.900"
6.3 lbs.
100522 / 100520
8" IPS
9
11.94"
8.625"
2.34"
9.050"
12.7 lbs.
100531 / 100529
8" IPS
11
11.94"
8.625"
2.34"
9.050"
11.1 lbs.
100530 / 100528
10" IPS
9
13.56"
10.750"
2.34"
11.100"
20.9 lbs.
100539 / 100537
10" IPS
11
13.56"
10.750"
2.34"
11.100"
18.1 lbs.
100538 / 100536
12" IPS
9
13.00"
12.750"
2.34"
13.200"
28.0 lbs.
100547 / 100545
12" IPS
11
13.00"
12.750"
2.34"
13.200"
24.2 lbs.
100546 / 100544
14" IPS
11
13.00"
14.000"
1.75"
15.300"
35.3 lbs.
100551 / 100550
16" IPS
11
13.00"
16.000"
1.75"
17.400"
40.8 lbs.
100555 / 100554
18" IPS
11
13.00"
18.000"
1.75"
19.500"
51.1 lbs.
100559 / 100558
20" IPS
11
15.22"
20.000"
2.54"
21.600"
72.8 lbs.
100563 / 100562
24" IPS
11
16.73"
24.000"
2.67"
25.800"
109.8 lbs.
100567 / 100566
MJ Adapter
DIPS - SDR 9 - 255 PSI | SDR 11 - 200 PSI
Nominal Size
SDR
A
B
C
D
Weight
Item Code
With SS / Without

4" DIPS
9
10.25"
4.800"
2.34"
4.800"
3.5 lbs.
100511 / 100509
4" DIPS
11
10.25"
4.800"
2.34"
4.800"
3.2 lbs.
100510 / 100508
6" DIPS
9
11.31"
6.900"
2.34"
6.900"
7.7 lbs.
100519 / 100517
6" DIPS
11
11.31"
6.900"
2.34"
6.900"
6.8 lbs.
100518 / 100516
8" DIPS
9
11.94"
9.050"
2.34"
9.050"
13.0 lbs.
100527 / 100525
8" DIPS
11
11.94"
9.050"
2.34"
9.050"
11.3 lbs.
100526 / 100524
10" DIPS
9
13.56"
11.100"
2.34"
11.100"
22.1 lbs.
100535 / 100533
10" DIPS
11
13.56"
11.100"
2.34"
11.100"
19.9 lbs.
100534 / 100532
12" DIPS
9
13.00"
13.200"
2.34"
13.200"
30.2 lbs.
100543 / 100541
12" DIPS
11
13.00"
13.200"
2.34"
13.200"
25.9 lbs.
100542 / 100540
14" DIPS
11
14.00"
15.300"
2.22"
15.300"
33.1 lbs.
100549 / 100548
16" DIPS
11
14.00"
17.400"
2.22"
17.400"
44.1 lbs.
100553 / 100552
18" DIPS
11
15.22"
19.500"
2.63"
19.500"
66.2 lbs.
100557 / 100556
20" DIPS
11
15.22"
21.600"
2.63"
21.600"
94.8 lbs.
100561 / 100560
24" DIPS
11
15.22"
25.800"
2.63"
25.800"
132.3 lbs.
100565 / 100564
Sizes 2″ to 24″
Includes a ductile iron gland, gasket and bolts
Works with both IPS and DIPS
Fusion Bonded Epoxy Coated Ductile Iron Gland
SBR (Styrene-Butadiene Rubber) Gasket
Steel T-Bolts
ASTM A536 Materials Standard
Made according to ANSI/AWWA C-153 (2″ to 12″) and C-110 (14″ to 24″)
MJ Accessory Kits
| Nominal Size | Type | Bolt Size | Number of Bolts | Weight | Item Code |
| --- | --- | --- | --- | --- | --- |
| 2" | C-153 | 5/8" x 5" | 2 | 6.1 lbs. | 100580 |
| 3" | C-153 | 5/8" x 4 ½" | 4 | 6.7 lbs. | 100581 |
| 4" | C-153 | ¾" x 4 ½" | 4 | 7.4 lbs. | 100582 |
| 6" | C-153 | ¾" x 5" | 6 | 11.2 lbs. | 100583 |
| 8" | C-153 | ¾" x 6" | 6 | 12.4 lbs. | 100584 |
| 10" | C-153 | ¾" x 6" | 8 | 17.6 lbs. | 100585 |
| 12" | C-153 | ¾" x 6" | 8 | 19.5 lbs. | 100586 |
| 14" | C-110 | ¾" x 7" | 10 | 24.7 lbs. | 100587 |
| 16" | C-110 | ¾" x 7" | 12 | 30.8 lbs. | 100588 |
| 18" | C-110 | ¾" x 7" | 12 | 41.0 lbs. | 100589 |
| 20" | C-110 | ¾" x 7" | 14 | 50.9 lbs. | 100590 |
| 24" | C-110 | ¾" x 7" | 16 | 68.1 lbs. | 100591 |
KNOW WHAT YOU ARE LOOKING FOR? CLICK REQUEST A QUOTE BUTTON TO GET STARTED